As per the historical evidences it is believed that this famous temple of Sarala Chandi was constructed in Sarola Grama during the Bhauma Dynansty in 8th Century. The Goddess "Maa Sarala" was being worshiped in this temple till the end of Hindu rule in 1568 A.D. History, tradition, legend and literature remained as the silent to the existence of Sarola Chandi in the Sarola grama (village). In this context one among the great verses of Oriya Mahabharat may be quoted here.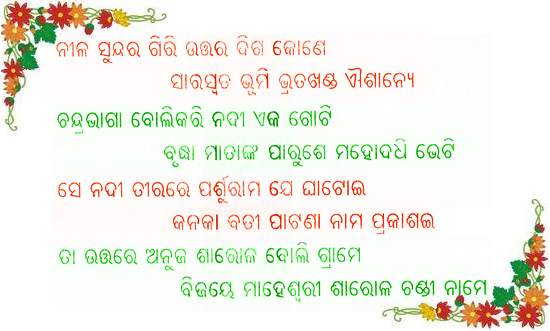 A ruined temple still in existence (renovated in the year of 1982) along with a large tank nearby and surrounded by residences of all categories priests (Niyogi, Pujapanda, Roul Sevak, Mali). Also there was a huge banyan tree (described as Nilakalpabata in Oriya Mahabharat) on the spot and uprooted out in the Super Cyclone in the year of 1999). Being established in 8th century in the time of Bhauma Dynasty, it was flourishing till the end of independent Hindu rule by 1568 AD. As legends, supported by historical evidences, in 1568 AD Supreme commander of the Muslim army Kalapahada of Bengli sultan Sulemankarani raided the original shrine of Sarola Chandi at Sarola grama and partly destroyed its famous Shakti temple. Just after hundred years during the reign of Moghul emperor Aurangzeb, the old temple of Sarola Grama was devastated and a mosque was built few metres away in the west of the temple.

At present Lord Ganesh is being worshiped in the ruined temple (Newly constructed in the year of 1982) by the head priest of the Goddess in the patronship of Sarala Trust. Some important ritualistic ceremonies are still observed in the old shrine thrice in a year. The processional idol "Chalanti Bigraha" of Sarala is brought in a gorgeous palanquin from the present temple to the Sarola Grama seven times in a year to commemorate the ancient rituals. The idol of the deity ceremoniously installed on the old throne where she had been worshiped for centuries. A male goat was traditionally sacrificed through the "Pancha Upachara Puja" at the place as the last ritual in the occasion of Dussehra. Mahabisuba (Pana sankranti) noon is the great occasion (Jhamu Yatra) Roul sevaks dance on fire and green coconut offered to Devi by panda pujakas. In the dawn of Dola Purnima decorated vimans consisting of several deities from adjacent localities congregate along with the goddess. This interesting occasion is observed with pomp and ceremony. This particular occasion, when Goddess Sarala is worshipped along with other deities, signifies that Maa Sarala is an amalgamation of Vedic cult, tantrik rites and vaishnavik efflorescence.